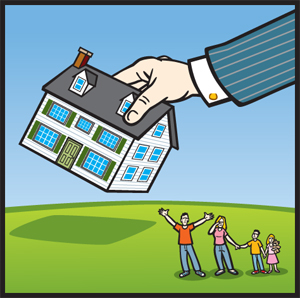 As a home owner, you will undoubtedly be doing everything in your power to ensure that you have the finances to cover the cost of your mortgage. What you might not know is that it's been estimated that in Australia, 'up to 1 million Australian households could be in danger of missing mortgage repayments by September'1 – not to mention facing strikes against their credit score.
Repossessions can occur for any number of reasons; from losing a job, all the way to taking a financial hit to your income. Regardless of what can lead to them – there's nothing quite as terrifying for a family, especially if they have small children. Decades ago, the Australian Government introduced several pieces of legislation to ensure that if a lender plans on repossessing a home; they must follow a particular set of guidelines.
The Early Signs of Repossession
One of the first things that a lender will do is to be open and approachable when it comes to helping a home owner. There are a number of steps that will be taken prior to repossession of your home. If they can help you to get on top of your arrears, then there may be no need to pursue a repossession whatsoever. The key is to act as soon as possible. If you have found yourself in this circumstance, you should contact your lender and apply for a hardship variation.
Progressing a Claim
If you are unable to satisfy their efforts, then you might find yourself being hit with a default notice. A default notice will give you 30 days to catch up on your missed mortgage payments.
If your lender hasn't granted you a hardship variation you can take this further by lodging a hardship variation with the lender's internal dispute resolution department or lodging externally with Australian Financial Complaints Authority (AFCA). They may propose fairer repayment terms, or extended mortgage periods, where less can be paid back each month.
If your financial situation is unlikely to improve in the near future, you other option is to sell your property.
Court Action
The lender may decide to take you to court if you have not met your repayment obligations and your default notice has expired. You should seek legal advice as soon as possible, as the lender will apply a court order to take procession of your home.
If this is the case, a Sheriff will come and serve you a Notice to Vacate your property. Once the lender has evicted you, they will change the locks and will then be able to sell your home
Whatever you decide to do, do NOT stick your head in the sand and hope the problem will go away. You need to make sure that you make steps to seek help from your lender as soon as possible otherwise the lender may take legal action to take procession of your home.
1.           Taylor, D (2018) Up to 1 million households 'on the edge' of mortgage default by September, analyst warns' ABC News  http://www.abc.net.au/news/2018-07-11/up-to-1-million-households-may-go-into-mortgage-default-by-sept/9976268
Credit Representative Number 496186 is authorised under Australian Credit License Number 389328
Disclaimer -This page/article provides general information only and has been prepared without taking into account your objectives, financial situation or needs. We recommend that you consider whether it is appropriate for your circumstances and your full financial situation will need to be reviewed prior to acceptance of any offer or product. Subject to lenders terms and conditions, fees and charges and eligibility criteria apply.