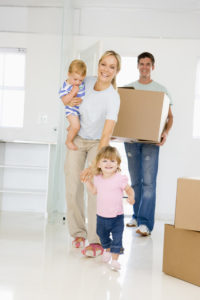 The First Home Loan Deposit Scheme (FHLDS) is an initiative of the Australian Government to help first home buyers realise their property dreams. The costs of buying a property in Australia can add up, and trying to save for a deposit can be a tall order.  The scheme will be supporting up to 10,000 guaranteed loans per financial year from 1st of January 2020.
The Australian Government understands these difficulties and is offering eligible first home buyers the opportunity to purchase a property with only 5% deposit. Normally, as a buyer, if you only had a deposit of 5%, you would be required to pay lenders mortgage insurance (LMI). LMI is a one-off insurance payment to protect the lender in the event you default on your loan.  Under the FHLDS, eligible first home buyers could save $10,000+ in LMI fees charged by the bank.
From the 1st of January 2020 the NAB and CBA will be offering guarantee loans to eligible first home buyers. From 1st of February 2020, 25 non-bank lenders will also be offering guarantee loans under the FHLDS.
Who is Eligible for the Home Loan Scheme?
First home buyers will need to satisfy a number of criteria to be eligible for a FHLDS guaranteed loan. These include:
Income test
Prior ownership test
Citizen test
Minimum deposit requirement
Owner-occupier requirement
Income Test
The FHLDS is open to both individuals and couples who are first home buyers. The scheme is eligible to:
An individual whose taxable income for the previous financial year was less than $125,000
A couple whose combined taxable income for the previous year is less than $200,000
As with all home loans, there are a number of servicing and borrowing assessments that are required by loan providers. Therefore, income & suitability will be assessed directly by the lender. To determine your eligibility for a loan, you will need to provide your 2018/2019 Notice of Assessment from the ATO as well as other documents such as payslips, bank account & credit card statements.
Prior Ownership Test
The aim of the FHLDS is to help genuine first home buyers. Those that have previously owned property are therefore not eligible for a guaranteed loan.
To determine eligibility, the FHLDS prior ownership test requires that you (or as part of company title) have not ever owned a real property or held an interest in land in Australia.
The prior ownership test includes the following, regardless of whether they have been lived in or not;
Properties in all States and Territories of Australia
Commercial property
Investment property
Owner-occupied property
Those purchasing as a couple/defacto should note that if either applicant has previously owned property individually, or with someone else, as a couple in this scenario you are not eligible for the scheme.
As part of the FHLDS application process, a statutory declaration will be required outlining that the applicants have not previously held any interests in property. The Statutory declaration will be provided to you by the participating lender.
Citizenship Test
The FHLDS is only offered to those who are current Australian citizens who are over the age of 18 years old. Therefore, if you are borrowing as a couple, both applicants will need to be Australian citizens. Please not that permanent residents who are not Australia citizens are not eligible for the scheme.
Minimum Deposit Requirement
The basis of the scheme is to help individuals and couples who have not been able to save the standard 20% of the value of the property, purchase property without having to pay for lenders mortgage insurance (LMI). Therefore, if you have saved more than 20% deposit, you are not eligible for the scheme. The scheme is for eligible first home buyers who have saved 5% of the value of the property as deposit.
Owner-Occupier Requirement
The scheme is to aid first home buyers in buying their first home. Investment property purchase are not eligible for the scheme.
To meet the requirements to be supported by the scheme you will need to:
Move into the property within 6 months from the date of settlement
Remain in the property for the length of time your home loan has a guarantee under the FHLDS
Want to see if you are eligible under the First Home Loan Deposit Scheme? Try this short quiz on the NHFIC website.
Buyers Property Eligibility
For a residential property to be eligible under the scheme, it must
Have a purchase price under the price threshold for its location.
Be purchased by eligible first home buyers
The property that is purchased must be financed under an eligible loan from a participating lender
Further requirements for different property types outlined on the National Housing Finance and Investment Corporation website.
Property thresholds
The FHLDS is aimed at helping First Home Buyers get into a modest dwelling sooner. Therefore, for a property to be eligible under the scheme, in Melbourne suburbs, the purchase price of the property must not exceed $600,000 (see below). Other first home buyer schemes are also still available to first home buyers, such as stamp duty concessions and First Home Owner Grants, see the SRO website for eligibility.
| | | |
| --- | --- | --- |
| 5 | VIC – capital city | $600,000 |
| 6 | VIC – regional centre (Geelong) | $600,000 |
| 7 | VIC – other | $375,000 |
First home buyers can determine the property price threshold for the suburb they wish to purchase in entering the relevant postcode in the search tool.
Home loans that are eligible under the FHLDS
Not all lenders and home loans are eligible under the scheme. NAB and CBA will be offering guarantee loans from 1st of January with a number of other lenders beginning from the 1st of February.
Those lenders available to you from Tundra Mortgage Brokers include:
Australian Military Bank
Auswide Bank
Mystate
Firefighters Mutual Bank
Health Professionals Bank
Teachers Mutual Bank
UniBank
Home loans that are eligible are those that are made by a participating lender for the purchase of an eligible property by a first home buyer or couple who are eligible home buyers!
There are a number of other requirements as described by NHICS which include:
Be secured by a registered first ranking mortgage over the eligible property
Have no other registered owners at the time of settlement other than the eligible borrower/s
Have 100% of the loan drawdown proceeds used for the purchase (or towards the purchase and improvement) or construction of the eligible property
Have a loan amount commitment not less than 80% and not more than 95% of the relevant Value of the property
Have a loan term of 30 years or less
Require regular principal and interest loan repayments.
Allow for no changes to loan terms, such as increased limit
How to apply for the Scheme:
Download your this guide today or contact us today!